EXCITING ENHANCEMENTS FOR YOUR ILLUMINATI LIGHT METER
Welcome to our most comprehensive Android app update for your light meter! Because we wanted to make your Android metering experience the best yet, we have packed a lot of new stuff into this release. For example, we improved flash metering, created a new color temperature display, implemented alarms, expanded the filter gels library, and there's much more! Just follow this link, or go to to the Google Play Store and search for "Illuminati Meter" to download this exciting new update.
Read on for a list of the latest enhancements! Learn more about the Illuminati Wireless Light and Color Meter here.
TILES SCREEN
New "EV" tile shows the light level in EV

A new button on the Tiles screen triggers manual readings

Set alarms for scene brightness and color temperature using "greater than", "less than", "between", and "outside of" logic for alarm settings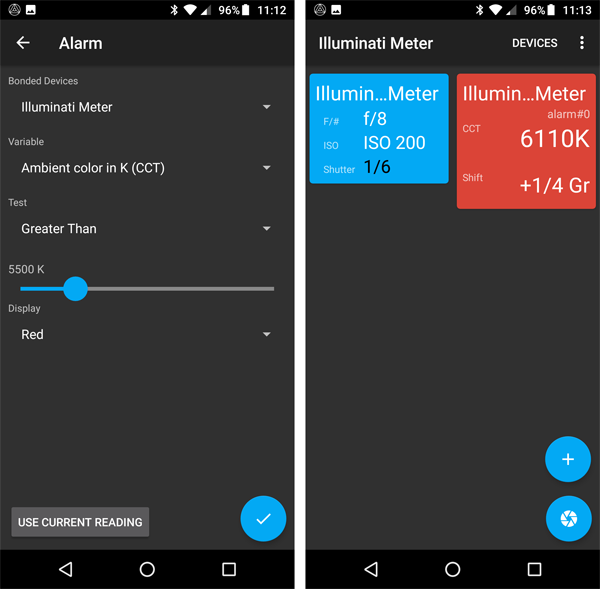 DEVICE SETTINGS
We've made it easier to connect your Android phone to multiple meters. Most users will want to let the meter connect to any device, but limiting connections to only paired devices is helpful where others are using Illuminati Meters at the same time.

New calibration adjustment sliders for both ambient and strobe readings make it easy to adjust your meter's calibration to match other equipment

We have added manual and automatic LED brightness controls so you can control how bright the LEDs are – and you can turn them off, too

The Device Settings screen now shows the meter's firmware version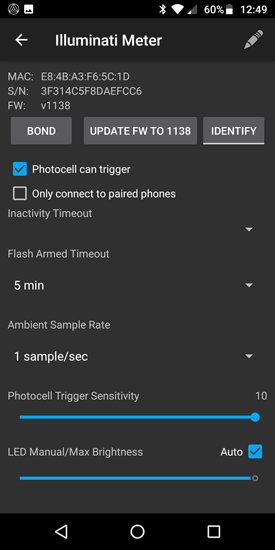 METERING TABS
Strobe exposure metering works better.  Strobe ratio and long exposures with flash give more accurate values

Set exposure compensation in 1/3 or 1/10 stop increments.  Choose the step size in the app settings

With the new Color tab (separate from Color Graph) it's easier to see ambient and strobe color temperature and color tint

Use either green/magenta or Duv units to display color tint. Select your preferred units in the app settings

Added ND filter feature to the Video tab

The filter gel library now includes over 400 filter gels sorted by manufacturer and family, including:

Profoto OCF Color Starter, Color Correction, and Color Effects Gel Packs – new filter sets!

Lee Filter Gels – more filters!

Rosco Cinegel – more filters!

Rosco e-Colour+ – new filter set!

GamColor – new filter set!

Added illuminance readouts in foot candles, as well as in lux.  Select your preferred units in the app settings
FIRMWARE
The app will install the latest firmware, v1169

The app now automatically checks for firmware updates in the cloud and installs the latest version, regardless of the app version