Using Isolight in a Light Booth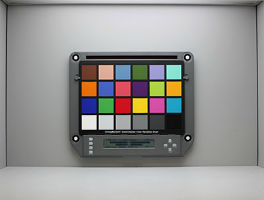 Isolight makes light booth testing much easier and more accurate:
Quickly and safely magnetically mounts to booth walls
Use fold-out legs for plastic booths
Automatically include light level and uniformity readings in each captured image
Remotely measure light level for automated data gathering and characterization
Quickly and repeatably position charts when using multiple charts
18% gray case won't alter auto white balance or auto exposure behavior
Autoranging sensors means you won't have to reach into the booth to adjust range settings, potentially disturbing test scenes
Powered from USB or DC adapter so you never have to worry about batteries
Use battery operation for cleaner appearances
Automatically detect test chart position and framing using the white/black light sensors as machine vision alignment targets
You will probably soon realize the lighting in most light booths isn't very uniform.  Isolight will tell you just how uniform it is.  Isolight can also be a useful tool should you choose to improve your lighting uniformity.