Programmable Presets
Industry image quality standards and customer specifications usually require image quality testing be done at a few specific light levels.  Isolight includes four programmable preset buttons to easily save and restore the entire device state so that you can quickly switch between lighting conditions and system set-ups.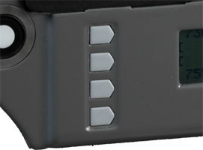 Saving and Recalling Presets
The preset buttons use a simple press/hold interface.  To recall a preset, simply briefly press the appropriate button.  A short success beep will confirm your request if a preset was saved.  If no preset is saved, an "error" tone will play.  To save a preset, simply press and hold the appropriate key until a confirmation tone plays.
Presets are non-volatile and are saved between power cycles and even if power is completely lost.