Remote Data Acquisition and Control
For your convenience, the Isolight and Isolight Color can be controlled – and data can be gathered – remotely. The handy user manual explains the command interface.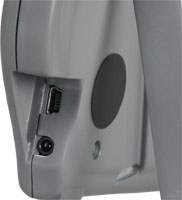 USB Interface
Isolight features a USB interface for remote control and data acquisition.  The simple command language provides access to all menu command settings.  All light sensor data is available including individual sensor readings, current target value, and min and max tolerance values.
XBee Wireless Interface
Isolight also offers an optional XBee wireless interface.  Using the same command language as the USB interface, the wireless interface is easy to set-up and means one less cable to manage whether in a light booth, studio, or in the field.
Production Test Systems
Isolight is ideal for use in production test systems to ensure accurate and repeatable set-ups.  Use Isolight to automatically verify lighting is operating and configured correctly.